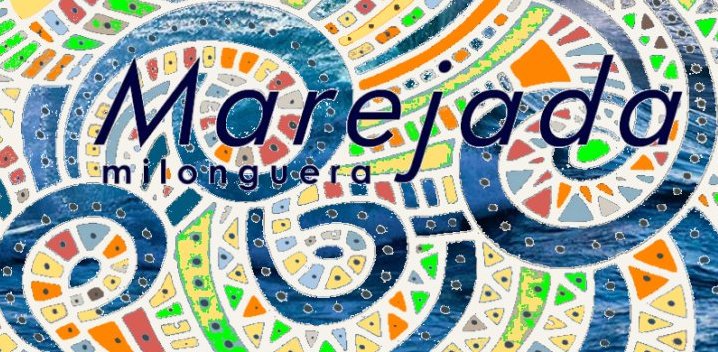 MAREJADA milonguera (encuentro)


| the most social || the most inexpensive || the most easy to reach |
|the most marine || the most friendly || the most milonguero |

~tango bueno~buena onda~
~~~~~~~~~~~~~~~~~~~~~~~~
( 12° event by a'mareTango)

at Calambrone beach, Tirrenia (Pisa, Italy)
September 25-27, 2020
EVENT CANCELLED
EVENT CANCELLED
EVENT CANCELLED

--- Dear friends milongueros --- We regret so much to announce that our encuentro milonguero Marejada is CANCELLED. We are sorrowful, but actually we could not be able to guarantee a joyfull and serene tango event as it has always been in the past editions. We expect to meet you and dance together again somewhen next year. --- A big warm hug to all.

--- Cari amici milongueri --- Siamo desolati nell' annunciare che il nostro encuentro milonguero Marejada č ANNULLATO. Ci dispiace molto ma non saremmo in grado di poter garantire un sereno e gioioso evento tanguero come č stato nelle edizioni passate. Contiamo di poterci incontrare per ballare di nuovo insieme il prossimo anno.
--- Un grande e caloroso abbraccio a tutti.
Our great MUSICALIZADORES
Al Porteņo, Marco Evola, Theo Chatzipetros, Mati, Pj Sini
At our milongas is requested to respect the
Alle nostre milonghe si chiede di rispettare i
CODIGOS DE MILONGA
-Milongas full pass (60 euros): 4 milongas by renowned tango-Djs, with permanent little buffet, plus informal welcome warm-up with aperitive within friday check-in.
-2 nights (50 euros per night per person) half board in large double room with bathroom, kitchen, porch, beach and swimming pool, breakfasts and dinners included.

- Total: 160 euros per person

- Optional: convivial lunch at typical fish restaurant on the Arno River, 15 euros.


-Pacchetto milonghe (60 euro): 4 milonghe con rinomati tango-Djs e piccolo buffet permanente, più un informale warm-up con aperitivo di benvenuto durante il check-in di venerdì.


- 2 notti (50 euro per notte a persona) mezza pensione in grandi camere doppie con bagno, cucina, veranda, accesso a spiaggia e piscina, colazioni e cene comprese.

- Totale: 160 euro a persona

- Optional: pranzo conviviale in tipica trattoria di pesce alle foci dell'Arno, 15 euro.

Lodging and dancing at Regina Del Mare hotel/resort
for info please e-mail to:
tango.marejada@gmail.com

visit - - fB group - - fB event
The location of MAREJADA milonguera is only km.12 from
Pisa International Airport G.Galilei (PSA) (see location)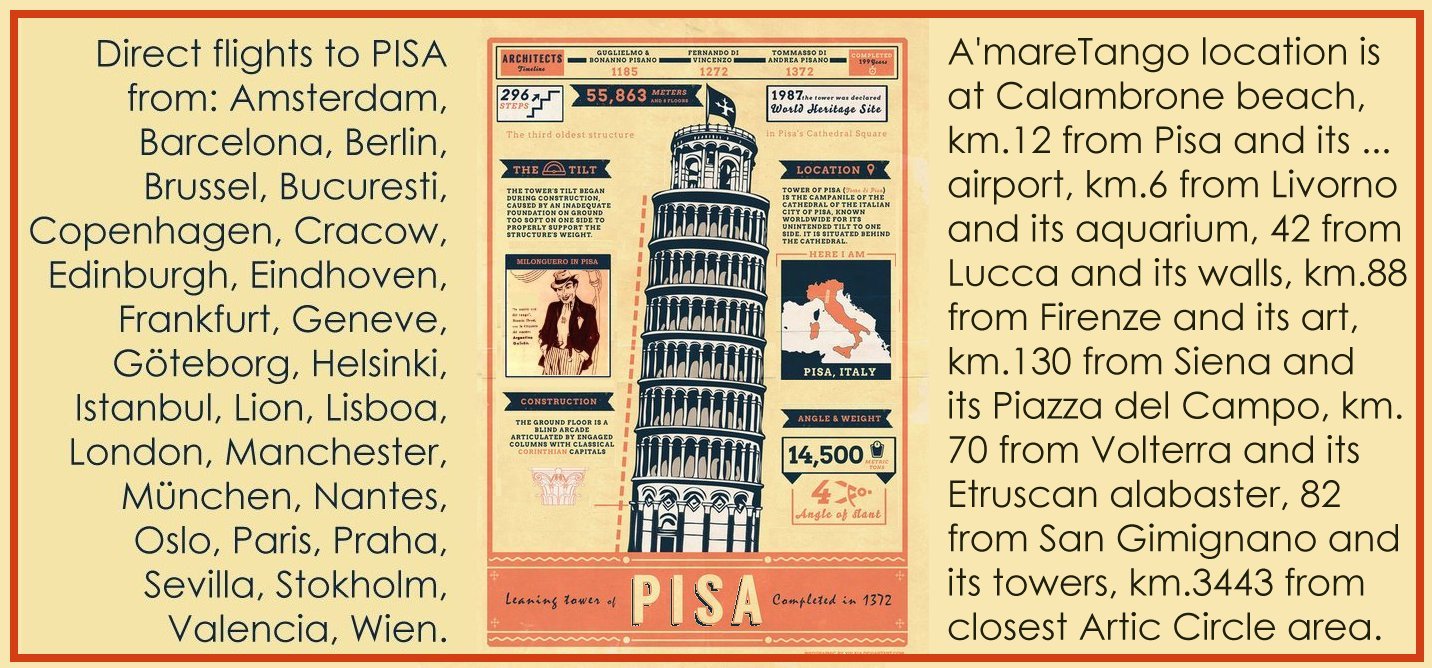 ---